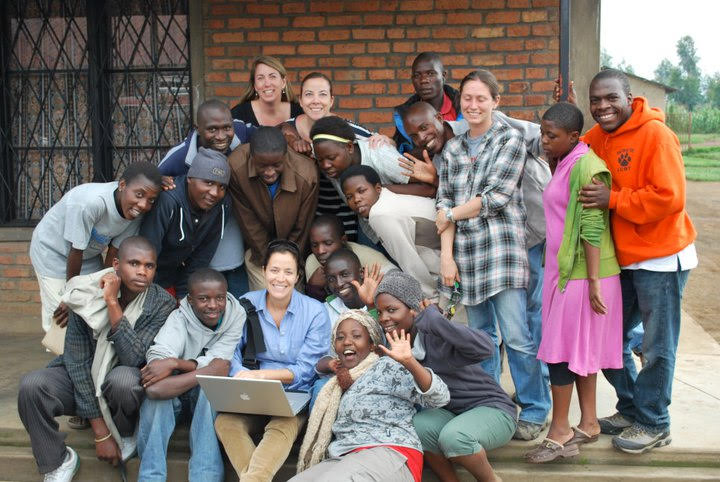 JEAN Bizimana - Project Coordinator
Bizimana is a staff photographer with Reuters Africa, based in Kigali, Rwanda, and a project coordinator with Through the Eyes of Children/Camera Kids and a GroundTruth Film Fellow. Bizimana grew up in the Imbabazi Orphanage and is one of the original Camera Kids. Bizimana arrived at the Imbabazi Orphanage on January 3, 1995, when he was just three years old. He and his family fled to the Congo DRC during the genocide and his mother died from dysentery in a refugee camp. His grandmother who also took care of him, died when she was trying to return to Rwanda from the Congo, leaving Bizimana with no one to take care of him. Bizimana was very good at school and in 2001 at the Imbabazi Orphanage in Gisenyi, he began planting a nursery for flowers, fruit trees and flowering shrubs. He soon had beds of plants, plants in tin cans hanging from tree branches and had put up signs marked "pepinier." When Roz Carr who ran the orphanage asked him if he planned to be a gardener, he answered, "No, an agronomist." Bizimana is a Mount Kenya University graduate with a degree in Information Communication Technology.
You can see Bizimana's photos Here.
Gadi Habumugisha - Project Coordinator
Gadi currently works in the Rwandan tourism field with a major hotel chain in Kigali, Rwanda, and is a project coordinator with Through the Eyes of Children/Camera Kids and a GroundTruth Film Fellow. Gadi was brought to the Imbabazi Orphanage by the Red Cross with his sister, Uwamahoro. His parents were lost in the Congo. Gadi was an exceptionally good student and always placed in the top of his class. Gadi's ability to speak several different languages and his fluency in English and French made him a natural translator and excellent assistant for the photo workshops. Gadi has taken his love for photography and has been hired by Starwood Hotels to photograph all of their African properties and has been able to travel extensively to exciting locations. Today, Gadi is married with a young son and is taking his love for photography and sharing it with other children in the world. Gadi was also the subject of one of the Camera Kids' portraits entitled Gadi at the Market, by Jacqueline, who took the photo of Gadi when she was just eight years old. The image won best portrait in an international photo competition - in the adult category and has been the signature image for Through the Eyes of Children.
You can see Gadi's photos Here.
Mussa Uwitonze - Project Coordinator
Mussa is a very talented photographer and has been able to participate in several professional photo workshops with Canon and has shown his photographs in Rwanda and Europe. Mussa currently works with a Rwandan Tour company and is married and the father to two little girls. He is also a project coordinator with Through the Eyes of Children/Camera Kids and a GroundTruth Film Fellow. Mussa arrived at the Imbabazi Orphanage in January 1997 at the age of six, along with two other boys. They were brought to the orphanage by The Red Cross with no information about their backgrounds except that both of Mussa's parents died in Goma during the refugee crisis. Mussa graduated from Rwanda Tourism University College.
You can see Mussa's photos Here.
Kristen Ashburn - Project Coordinator,
Photographic Director
Kristen began her work with TTEC in 2001 when she helped David Jiranek teach photography during the second annual workshop. Since that time, she has continued to teach during each annual workshop. Kristen is a documentary photographer based in New York City and Miami. Her photographs and stories from events in the Middle East, Europe and Africa have appeared in publications including Time, The New Yorker, US News and World Report, Life, Mother Jones, Rolling Stoner and The Telegraph Sunday Magazine among others. She has received numerous awards including first place in NNPA Best of Photojournalism, and first and third place in World Press Photo, and the Marty Forscher Fellowship, the Cannon- AFJ Grant and the Getty Grant. She is represented by Contact Press Images.
Jenifer Howard - Project Coordinator,
Public Relations
Jenifer Howard was first exposed to TTEC in 2001 when David Jiranek returned from Rwanda after the Project had its first exhibit at the US Embassy in Kigali. Moved tremendously by the stunning images, Jenifer became personally involved and worked on PR when the exhibit was shown at The Lincoln Center in New York and has assisted in generating publicity on the the Project, securing segments on ABC World News Tonight, CNN and many other stories with the media. Jenifer is a public relations consultant and specializes in consumer product promotion and lives in Connecticut.
Joanne McKinney - Project Coordinator, Director
Joanne McKinney began her association withTTEC in 2001 working as the film editor for the video elements of the project. She participated in the development of the organizations creative materials and functioned in a support role for David Jiranek, the project founder. With David's death, Joanne stepped in to direct the project. Joanne's day job is in the world of branding and advertising, where she is CEO of Burns Group, a NYC based ad agency. Joanne splits her time between Connecticut and New York City, but prefers to be dragging her husband and two sons to various destinations around the globe.
Board of Directors
Kristen Ashburn
Jenifer Howard
Joanne McKinney
Beth Murphy
Fred Ritchin
Mussa Uwitonze
For more information email us directly at: info@camerakids.photos

Advisors and Friends
Brendan Bannon
Alex Fellows
Melissa Harris
Todd Hoffman
Kesra Hoffman
Cricket Jiranek
Cat Jiranek
Ed Kashi
Gary Knight
Beth Levine
Ambreen Qureshi
Ruddy Roye
Stephen Yadzinski

Supporting Organizations
Bigswing.us
Canon
GroundTruth Films
Olympus
Regeneron
The Home for Little Wanderers
Worldwide Orphans
David Jiranek - Project Founder (1958-2003)
David Jiranek had a passion for photography, for adventure, and for working with disadvantaged children. Improbably, he combined all three with Through the Eyes of Children. In 1999, he traveled to Rwanda to document in photographs the horrible genocide of 1994. After arriving in the war-ravaged country, David set to the task of documenting what he saw. The aftermath of war was all around: bombed-out houses, deserted cars and children without parents. He began taking pictures, but soon he realized it would be more difficult than he imagined. The local residents were slow in opening up to him. They were suspicious of his big camera with the telephoto lens. Instead of completing his photo journey, he befriended the children of the Imbabazi Orphanage and taught the children, who had never seen a camera, how to take pictures. David's photography experiment with the orphanage yielded a trove of astonishingly beautiful images created by the children which became the basis for this photography exhibition and others shown in Rwanda's capital city in 2001 and at various galleries in the U.S, and abroad.
In David's own words:
David Jiranek, project founder, was a Broadway producer, a writer, a photographer, and a highly successful businessman. He died in an accident in August 2003 at age 45. David is survived by his wife, two daughters and a dedicated group of friends and family that have continued on with the project in his honor.